Customer Reviews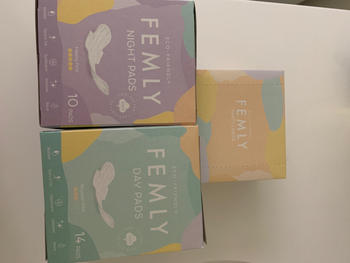 07/23/2020
Love
I'm very pleased with the products and I love the packaging.
Anonymous
United States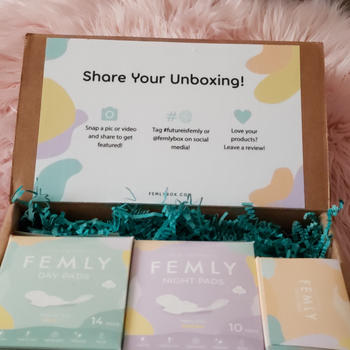 06/22/2020
Mary V Femly Review
First and foremost, I love the fact that Femly is all natural. To often we subject ourselves to toxins and Femly has made away to stray away from that. The products gives comfort during a time where discomfort is experienced. I am very pleased, and will continue to purchase Femly.
Marycetta L.
United States
Thank you so much for your awesome review Mary! We're proud to serve you
07/13/2020
Amazing Products!!
I absolutely love Femly! After I learned that my typical brand of feminine products used prison labor to produce their products I knew I could no longer buy from them, so I found Femly! They have not disappointed in the quality and comfort of their products and they arrived promptly! I truly cannot recommend Femly enough!
Anonymous
United States
Thank you for such a stellar review! We're so proud to serve you and look forward to supporting your wellness goals with great products on a consistent basis!
07/09/2020
Best product ever!
I was super excited to try out the Femly products. Especially after finding out that the CEO was a black woman. I bought the trio pack so I could try everything and get a feel for what the products were like. It definitely feels affordable for me and was very worth it. When on my cycle one of the most important things for me is that I'm comfortable, and while using these pads, not only were they very nicely packaged, but they feel SUPER secure and are extremely comfortable. At no point during the day did I fear for leaks, and they don't really shift or move at all. I would recommend using the night pads for your heavier flow days though. Other than that, I absolutely love this brand and their products. This is now my new go to brand!❤️
Jo J.
United States
Thank you so much for a stellar review! We're proud to have the opportunity to serve you and look forward to providing the products you deserve on a consistent basis!
07/08/2020
Love it!
perfect! So far there isnt any vaginal irritation. Decreased my daughters cramping during her menstral cycle. Its completely soft and absorbent.
Anonymous
United States