Customer Reviews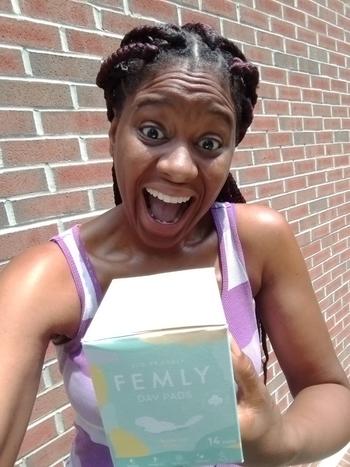 07/16/2020
Shockingly perfect!
I bought the night pads and started with those and they were super comfortable. These day pads I can't even feel! It's past comfort. Now if y'all can do something about these cramps LOL
Jessica C.
United States
First of all, this is the cutest selfie ever! We're so happy that you love our products! It's an honor to be able to serve you and we look forward to providing the products you deserve and serving you on a consistent basis!
06/28/2020
Great product
I've been committed to using more eco- friendly products that are not laden with carcinogenic ingredients. This has been my go- to pad for a while now, and I'm so glad that I can finally buy products that are more comfortable than the other mass produced products out there! Fast shipping too despite global shipping delays.
Amy
United States
This is an excellent commitment and we're so glad that you've found a great fit with products from our line. Pssst.... a little birdie told us new products are dropping in a few weeks, add a photo/video to this review to earn extra points towards them!
06/23/2020
Great product-great shipping!
I've used several other brands of body friendly pads, but so far Femly is winning out. I loved Rael, but the adhesive they used didn't attach to anything that wasn't cotton, and it didn't hold onto that for long. So far, Femly has not disappointed in the adhesive hold. I like that it came packaged in cardboard that could be recycled or reused. I also loved that the box it came in was plain. It's always fun to get a pretty package in the mail, but I feel like boxes that scream "PERIOD PARTY" might not be as inclusive as they should be. There are people with periods who don't necessarily want or feel safe enough to have that information announced. I did, however, love the extra care with the bright paper grass on the inside! I'll be back for more!
Anonymous
United States
Thank you so much for your review! We're proud to serve you and appreciate the thoughtfulness and notice of our minimalist packaging. As we grow, our goal is to make it even more fun while still serving all people who menstruate! We appreciate you! Add a photo or video to this review and earn extra rewards points!
06/03/2020
These Pads Catch EVERYTHING!
Like many, I had my go to brands. For no other reason than because that's what I grew up buying. I took a chance and tried Femly during the pandemic because I didn't want to go to the store. My first order arrived quickly at my door only days later. Still skeptical about whether there would be any difference at all, I still used my usual go-to brand. Then...I ran out at the WORST time....before bed. Y'all don't know how terrified I was. I woke up the next morning SHOCKED. ZERO leaks. Not a drop. We all know nights can be a nightmare. Not with Femly. Let's fast forward. I recently participated in a protest for 3 hours. Marching, standing, kneeling, sitting, walking for 3 whole hours. Femly did not fail. You have earned my loyalty.
Kamillya H.
United States
Thank you so much for taking the time to leave such an amazing review! We appreciate you and are happy to have made your cycle a better experience! Hugs from our team to you!
04/30/2020
I love these!!
The feel of cotton pads are very different from other materials. It's cool and comfortable. Perhaps a fresh feeling even. I will say that on my first days, I have to use pads that are thicker, but these work well for lighter days. Also, very absorbent.
tsahia h.
United States
We appreciate you so much! Shoot a pic of you holding our products to sales@femlybox.com and get a VIP discount on your next order!